The Richard Burns Foundation was able to take refuge from the elements at Chatsworth in a brand new 'E-Z Up' portable shelter - June 2009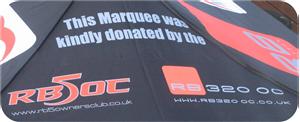 The swish RBF-branded item was kindly donated by money raised by personal donations from club members of the RB5 Owners Club and RB320 Owners Club, who have been unstinting supporters of the Foundation from day one. It certainly did its job at Chatworth, and you will be able to spot it at motorsport events all around the country from now on.
Statement made by Subaru (UK) regarding Invite to Prodrive Pick Up day - 5th March 2007
From a spokesperson at Subaru (UK) Ltd
"We have become aware that a small number of attendees at the special March 17th RB320 Hand-over & Track Day have received invitations with mis-matched envelope and mailer details. We would like to apologise unreservedly for any distress caused. All of the other details including the start time, location and activities of the day are correct.
During the next 24 hours we will attempt to contact the affected parties. If any of our invitees is concerned about their attendance on the day, Lisa Mullen at Prodrive on 01676 536017 will be only too pleased to help.
We much look forward to a great day on the 17th and would like to take this opportunity to thank each and every RB320 customer for their business."
MSN Cars feature the RB320 - February 2007
View images here
Auto Express review the RB320 - January 2007
Subaru Impreza Turbo RB320
Rating:



The Turbo version builds upon the strengths and addresses the faults of the original
By Paul Bailey
Read more here
Test drive an RB320 at Prodrive's Warwickshire Circuit - 22nd December 2006
Subaru enthusiasts attending the Autosport Show on 12th - 13th January 2007 will have the unique opportunity to enjoy a special Subaru Driving Experience which will include the first ever chance to get behind the wheel of the limited edition Impreza RB320.
A limited 300 places are available for a two-hour spin around Prodrive's Warwickshire circuit in the new special edition which debuts on stand 7340, Hall 5, at the 'Autosport 2007 Show' at Birmingham's NEC. As well as the new RB320, there will also be the chance to drive a range of other performance Subarus.
The Driving Experience will cost £50 per person with all proceeds going to the Richard Burns Foundation. The lucky participants will be transported from Subaru's show stand on Friday and Saturday, January 12 and 13 to Prodrive.
Places are strictly limited and are available on a first-come, first-served basis. Book in advance by calling Subaru Drive Days on 01676 536191 or emailing subarudrivedays@prodrive.com
As an extra bonus for the foundation, Subaru Insured will donate £25 for each RB320 policy to match our £25 membership.
Subaru release track footage of RB320 - 22nd December 2006
During the press photo shoot of the RB320, video footage of the RB320 being driven by Damon Hill was taken.
You can now see this video on the Subaru RB320 Mini-site.
RB320 Owners Club memberships now available - 6th December 2006
You can now join The RB320 Owners Club for 1 years membership and enjoy the extended period for free!!!! All for only £25.
Basically you will have full Club Members status from now until the end of March 2008.
As we are still in the interim period and hoping more and more RB320 owners will be finding the website and forum, your £25 will be going towards the membership cards and other costs for the members pack, the full forum that has many more features and extras for club members and other improvements.
The RB320oc does not make any personal profit, all money derived from the club goes back into the club (just the same philosophy as the RB5oc has had since it started some 4 years ago.)
The membership Pack will include a welcome letter with an individual number that you will have on the membership card, this allows access to your discounts setup with our many sponsors, Subaru dealerships and club merchandise. KEEP THIS SAFE!!!!
You will also receive RB320oc car window stickers in the members pack and other items that we are still working on, including possibly a RB320oc keyring.
To join the club, you will need to input your RB320 details into the club's registry:
http://www.rb320oc.co.uk/regadd.asp
If you have already entered your details into the registry, then you can join the club by following this link:
http://www.rb320oc.co.uk/memberadd.asp
Should you have any queries, please do not hesitate to contact me:
RB320 Pride of Place at Autosport International Show at the NEC - 4th December 2006
The RB320 will have pride of place on the Subaru stand at the Autosport International Show at the NEC, which takes place from the 11th to the 14th January 2007.
In addition, Subaru will be giving seriously interested prospective customers the chance to drive the car at Prodrive on Friday 12th and Saturday 13th January.
On these days Subaru will be hosting three driving sessions a day where they will transfer prospective customers by coach from the NEC to Prodrive Warwick and back again.
Subaru mini Site launch - 4th December 2006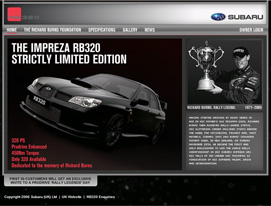 Subaru (UK) have launched their Subaru Impreza RB320 Special Edition Mini-Site.
Click here to visit the mini site!
Subaru announce RB320 website - 1st December 2006
Subaru (UK) will launch their Subaru Impreza RB320 Special Edition Mini-Site on Monday 4th December.
The RB320oc very much look forwards to this site opening and will keep you all up to date on any stories that come from the new Subaru site. As yet, very little is known about the RB320, apart from in the original press release.
UK Unveiling - 25th November 2006
| | |
| --- | --- |
| Covers coming off! | And some more... |
| | |
| --- | --- |
| Doors open, get in! | The Interior |
SUBARU ANNOUNCES RALLY HERO SPECIAL EDITION - 21st November 2006
Available only in Obsidian Black, the RB320 features bespoke 18 ins alloy wheels and specially developed Prodrive suspension comprising Bilstein dampers, a sports spring kit with revised rear anti-roll bar and a ride height lowered by 30 mm at the front and 10 mm at the rear.
The RB320 Impreza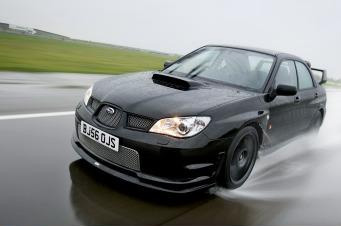 click image for larger version
Also standard on the RB320 are a chrome mesh front grille, front lip spoiler, quickshift gearchange, side sill plates and RB320-branded gear knob, carpet mats and exclusive exterior badging. Each owner will also receive an individually numbered black alloy tax disc holder.
The PPP boosts power to 320 PS at 6,000 rpm with torque leaping to 332 lb ft at 3,700 rpm. This reduces the 0-60 mph time to 4.8 seconds with a 0-100 mph time of 12.2 seconds.
And as a further incentive, those customers placing early orders with deposits will be offered a limited number of places at a special RB320 launch event next March at Prodrive's test track in Warwickshire.
Not only will RB320 fans take delivery of their cars at the circuit but will be able to drive demonstration STIs around the track and meet rally celebrities. In addition, customers will also be able to register on-line and reserve the limited-edition number of their choice via a special sub-section of Subaru's website.
Finally, the first car is to be given away in a special raffle organised by Autosport magazine, donated by Subaru (UK) Limited. The proceeds will go to the Richard Burns Foundation which helps those suffering from serious injury and illness.